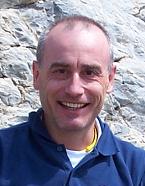 Thanks for your visit.

My name is Paolo (Paul), despite what I am doing today to live, I collaborate with "B2FH" (Research for Nuclear Astrophysics), writing software for the analysis of simulation data of the nucleosynthesis of heavy elements in supernova explosions.
Since 2009 I am the scientific coordinator of a local amateur astronomers group and I am involved in popularizing science (astronomy and astrophysics) among young people of both primary and secondary schools, as well as among adults in low and middle schooling (if required).
Years ago, I carried out the study phase of the Biomass Project for the Municipality of Berzano di San Pietro (AT).
I speak English, French and Chinese (mandarin).


I like Nordic walking, playing music (flute), go to the mountains and along climbing routes (when I get the chance), and to play Mancala.