Off the beaten track
China Beijing - The Capital City
all data refer to year 1995
---
China: a personal anecdote
Central China — Eastern China
Traveller's Memories: index
---
As a capital, Beijing casts a long shadow over the rest of China. Regardless of time meridians, Beijing time is followed nationwide; around the country, the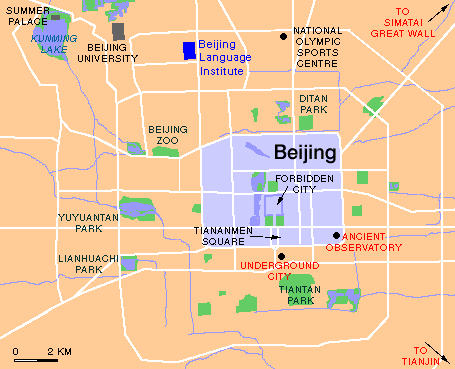 Beijing dialect - putonghua - is spoken; and places such as Tibet and Ürümqi are forced to refer to the central government on all matters.
For Beijing, the dictum that a nation's capital doesn't reflect the nature of the country as a whole is especially true. Instead it's a People's Republic of China showpiece and a city of orderly design, with long, straight boulevards crisscrossed by lanes. Places of interest are easy to find if they're located on these avenues - and nearly impossible to find if they're buried down the narrow alleys. The city's central core was once a walled enclosure, and it still maintains its ancient symmetry based on a north-south axis passing through Qianmen (Front Gate).

Peopled some 500,000 years ago, the area that makes up today's Beijing sprouted a frontier trading town for the Mongols, Koreans and tribes from Shandong and central China around 1000 BC. Burnt to the ground by Genghis Khan in 1215 AD, the resurrected city was passed on to Kublai Khan (Genghis's grandson) as Dadu, or Great Capital. The mercenary Zhu Yanhang led an uprising in 1368, taking over the city and ushering in the Ming Dynasty. The city was renamed Beiping (Northern Peace) and for the next 35 years the capital was shifted to Nanjing. When it was shunted back again, Beiping became Beijing (Northern Capital) and up went such foreboding structures as the Forbidden City.
Under the Manchu invaders, who established the Qing Dynasty in the 17th century, Beijing was thoroughly renovated and expanded. From the beginning, however, it was obvious that any city proclaimed China's heart was to endure a tumultuous existence. While invaders have dwindled since the days when Anglo-French troops were razing the Old Summer Palace or the Japanese army was in occupation in the 1930s, internal power struggles will always dog this fiery nation's capital.
With Mao Zedong's proclamation of a `People's Republic' in Tiananmen Square in 1949, the Communists stripped back the face of Beijing. Down came the commemorative arches, along with several outer walls, in the interests of solemnity and traffic circulation. Soviet town-planning know-how was employed at the time, which explains the Stalinesque features of many prominent buildings and landmarks.
Beijing's darkest modern moment came in 1989 when a massive pro-democracy student protest in Tiananmen Square was brutally, bloodily crushed by Deng XiaoPing's government forces. That such an atrocity could happen while capitalist-style reforms flooded the city with shopping malls and foreign money typifies Beijing - a moody city of contrasts and contradictions.

The city's most famous gem is the Forbidden City, the largest and best preserved cluster of ancient buildings in China. Off limits for 500 years, the complex was home to the Ming and Qing dynasties. Its basic layout emerged in the early 1400s and it was from here that successive emperors ruled China. Burnt to the ground several times, the palace has been restored and restocked with treasures (old, newly discovered and fake) from all over the country. On the city's outskirts, the Summer Palace is one of Beijing's finest sights, and includes an immense park and Kunming Lake, which is spanned by a 17-arch bridge. Forever sullied, Tiananmen Square lies at the heart of Beijing, and is a vast desert of pavestones and photo booths. Nearby Tiananmen Gate is a national symbol, having been a place of proclamation since imperial days.
At Mao's Mausoleum you can purchase some Mao memorabilia and catch a glimpse of the man himself (when his mortuary make-up isn't being refreshed). Tiantan Park's Temple of Heaven is Ming architecture at its most perfect, and has come to symbolise Beijing. The charred remains of the Old Summer Palace are set in immense grounds - a great place to picnic and soak up some peace and quiet after you've legged it through the Chinese Revolution History Museum and the Military Museum. The Great Wall passes within 70km of Beijing at Badaling. Increased tourism has turned the sight into a bit of a circus, with a cable car, a film amphitheatre, tacky t-shirts and camel rides on offer. Mutianyu, 90km from Beijing, is a slightly less crowded vista.
While the tourist masses tend to head for Badaling to grope the Great Wall of China, there are more challenging stretches of this historical and architectural marvel within an easy day-trip from Beijing proper. One of the least developed (for now) is Simatai Great Wall, and it's not for the faint-hearted. The 19km section is very steep, with a few slopes built at a 70-degree incline but it's worth it to see the Wall au naturel, in contrast to the heavily-touristed Badaling and Mutianyu sections, which are so well restored they could have been built yesterday.
The Ancient Observatory
is mounted on the battlements of a watchtower which was once part of the city walls. This observatory, just east of central Zhongshan Park, gives an interesting perspective on Beijing. Today it's dwarfed by embassy housing blocks in a wilderness of traffic loops and highways but the sky-gazing dates back to Kublai Khan's days, when it was north of the present site. It was here that the Great Khan, as well as later Ming and Qing emperors, consulted the stars before making any major decisions.
The Underground City
is dated back to the late 1960s. With a Soviet invasion looming, Beijing's citizens started to go underground. The shadow-city which resulted was constructed by volunteers and shop assistants living in the Qianmen (Front Gate) area south of Tiananmen Square. About 2000 people with simple tools and 10 years of spare-time work created this subterranean network which has now been put to use as an unofficial tourist attraction and site for everything from warehouses to hotels, restaurants and even a roller-skating ring. There are roughly 90 entrances to the complex, all of which are hidden in shops along Qianmen's main streets. A fluorescent wall map reveals the routing of the entire tunnel system.

Accommodation is expensive in Beijing, but some bottom-end accommodation can be scrounged near the city centre. By Beijing's pricey standards, a hotel with rooms for less than US$100 a night is considered `mid-range'. There are still plenty of back-alley cafes offering bargain (but nameless) dishes; parklands and night markets are also good places to try anonymous meats.

Some daily costs in US Dollars (Beijing and all around China):
Local Trasportation: $0.5
Food (chinese like breakfast, lunch and dinner): $5
Middle level chinese restaurant lunch : $4
Top level chinese restaurant: $15 or more
Chinese Hotel: $20
Middle range Hotel: $60
Top End Hotel: $150 or more

Foreigners arriving or departing by train do so at Beijing Railway Station, east of central Zhongshan Park, or the newish west railway station. There's a Foreigners' Ticketing Office at the Beijing Railway Station. An express train to Hong Kong takes about 30 hours. The bus is a good option for getting in and out of Beijing as it's cheaper than the train and it's easier to get a seat. Sleeper buses are widely available and highly recommended for those long overnight journeys. Finding the right bus station can be tricky, but the basic rule is that long-distance bus stations are on the perimeter of the city in the direction you want to go.
The subway, or Underground Dragon, is definitely the best way of travelling quickly within Beijing. It can move at up to 70km per hour - a jaguar compared to the lumbering buses. But while it's clean and easy to use, the trains are starting to show their age.
If you simply must catch a bus around town, sharpen your elbows, chain your wallet to your underwear and muster all the patience you can - you'll need it. Oversized and overstuffed buses are the norm in Beijing. There are about 140 bus and trolley routes, which makes navigation rather confusing, especially if you can't see out the window.
Beijing taxis are multiplying fast: finding one is not difficult. But making yourself understood in English may be a bit more problematic. If you don't speak Chinese, bring a map or have your destination written down in characters. Telephone bookings are possible.
Like much of China, Beijing looks so much better once you're pedalling. A bike shortens those long dreary stretches, avoids the footpath throng, and helps you feel a lot more like a local. Hotels - especially budget hotels - often rent out bikes at reasonable rates, or there are the numerous bike hire outfits in the streets around hotels and tourist spots.
---
China: a personal anecdote
Central China — Eastern China
Traveller's Memories: index
---
© Paolo Botton